Ménage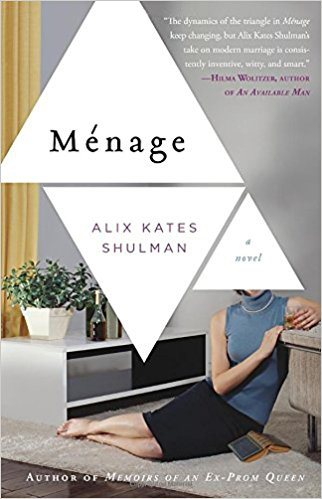 In her fifth novel Shulman explores some of the outlandish ways people use each other to achieve their ends, and gives us a perverse new twist on sexual and literary politics.

Three characters—Mack, a rising real estate developer; Heather, his literary wife; and Zoltan, a celebrated Eastern European writer in exile—vie for supremacy after Mack invites Zoltan to move into the couple's mansion. A three-way game of wits ripe with sexual tension develops between the brash husband, the striving wife, and the charismatic, aloof author.

Alix's latest novel, available now in paperback, ebook, and audio book.
"In this wry and delicious novel by the author of Memoirs of an Ex-Prom Queen, a couple in a boring marriage offer to share their lavish home with a celebrated but penniless writer who hasn't produced a book in years. The trio is not a sexual threesome, but each individual lusts for something, and the household dynamic seethes with the raging needs of their egos as they jockey to get what they want from one another. The characters are selfish and self-absorbed, but the sharp and entertaining satire that emerges from their comic triangle expertly skewers modern notions of marriage, celebrity and success."
—People Magazine (starred)

"When real-estate developer Mack McKay meets struggling émigré writer Zoltan Barbu at the funeral of a woman they both desired, their connection seems mutually beneficial. Mack invites Zoltan, whose living situation is as ambiguous as his finances, to come live and write at his bucolic estate; in return, Zoltan will teach Mack 'how to live honestly,' as well as provide Mack's wife, Heather, a frustrated writer, with literary solidarity and friendship. Alix Kates Shulman's spare, wickedly funny novel looks at all sides of this misbegotten domestic situation, managing to bestow both sympathy and deep, knowing judgment on the foolishness of all involved. As the 'gregarious houseguest of early weeks' becomes more like 'a sullen adolescent,' Heather's friend's husband, a psychiatrist, diagnoses Zoltan as a 'narcissistic, self-dramatizing sociopath.' He's all of the above, of course (in other words, he's a writer). Heather, who has 'put on hold the amazing stories she hoped to write once both children were in school full time,' is kind of a monster (when the phone rings late at night she half-worries, half-hopes it is news of her husband's accidental death), but a familiar one. In the end, the book reads like a fable on marriage, ambition, and the ridiculousness of literary fame."
—Boston Globe

"An irreverent comedy about an affluent couple who, in a bid for cultural cachet, take in a dissident writer, only to have sex complicate everything."
—O Magazine
"Shulman twirled into the book world with a witty and revolutionary feminist novel, Memoirs of an Ex-Prom Queen (1972), and eventually wrote actual memoirs, including To Love What Is: A Marriage Transformed (2008). Now, in a delectably mischievous return to fiction, she detonates our brittle assumptions about marriage and creativity. Powerful, rich, bossy Mack meets the celebrated yet destitute émigré writer Zoltan in Los Angeles and, feeling guilty about leaving his wife, Heather, home alone so much, spontaneously invites Zoltan to come live at their New Jersey mansion. He expects dark, handsome, hungry Zoltan of the molten eyes and chronic writer's block to produce a masterpiece, while also providing literary companionship for brainy, beautiful, well-read Heather, who keeps an impeccable home, writes an environmental column, and dreams of becoming a novelist. What sort of husband takes such a risk? Saucy Shulman orchestrates a brilliantly wry and entertaining comedy of desires as the by-turns dire and hilarious dynamics of this 'odd ménage' heat up and illuminate the cracks in our fantasies about wealth, fame, sex, and art."
—Donna Seaman, Booklist
"A surprisingly tart little literary satire from Shulman, whose long career includes a feminist classic (Memoirs of an Ex-Prom Queen, 1972), biographies of Emma Goldman, children's books and affectionate memoirs.
At 36, Mack McKay has made a ton of money with a hugely successful career as a developer. He has an airplane and a growing art collection in his one-of-a-kind mansion in New Jersey. But he senses his marriage to Heather, whom he met when they were students at Yale, has gone stale. He still adores Heather but is spending more and more time in Los Angeles wining and dining a hottie named Maja. Meanwhile Heather has put her literary ambitions on hold to raise their two children in the suburbs, with the help of nannies of course. Mack senses Heather's resentment, although not her sexual paranoia concerning Mack and Maja—an affair that is never going to happen, especially once Maja commits suicide. At her funeral, Mack meets Maja's actual lover, dashingly handsome if aging Zoltan Barbu, whose book Mack meant to return to Maja before her untimely demise. Exiled from an unnamed Eastern European nation and championed by the likes of Susan Sontag, Zolton was once a literary cause célèbre but now is broke, suffering from writer's block and about to be evicted from his apartment. Nevertheless he works his charm on Mack, who invites him back to the manse in New Jersey as a surprise for Heather. The agreement is that Zoltan will get a luxurious writer's refuge and Heather will be presented with an intellectual companion. Needless to say, Mack's plan goes awry. There is a clash of values, none of them noble though all self-justifying. Forget Shulman's reputation as a feminist author; spoiled, self-absorbed Heather is no more sympathetic than the two men who with her form an increasingly barbed triangle of mixed signals. And the liberal publishing establishment doesn't come off too well either.
For a woman approaching 80, Shulman is delightfully wicked, verging on malevolent."
—Kirkus Reviews
"Ménage is a bravura performance from one of America's most renowned feminist writers."
—Better Read Than Dead (Australia)